Whether she is busy hacking her new book into a stylish bag, or demonstarting her flair for fashion, or buried in a heap of ideas embodied by her sketches, Ashley Spire's artistic passion shines bright.
A few weeks ago, we picked up her latest picture book The Most Magnificent Thing and recognized that Ashley brings a fresh voice to children's picture books; in this instance, sharing a story about perseverance and the value of imagination, mixing in some science, math and technology. Your little ones will love this story's diminutive protagonist and her loyal assistant. The book is brimming with clever, engaging words and complemented by Ashley's own charming artwork.
Ms. Spires has also authored the wildly successful Binky series, along with other picture book favourites like Larf. We reached out to this favourite Canadian author to learn more about and ultimately share her story as a writer and illustrator. After her whirlwind Library Tour, we finally caught up with her. Here is what we discovered.
What were you like in school growing up on the west coast?

I was constantly drawing. Every project had the most elaborate title pages! When my best friend and I passed notes, we weren't writing about usual kid stuff, we were writing each other stories. Mine always had illustrations with them too.
What sparked the interest in photography, and how did that change?
As a teenager, I was overwhelmed by the talented artists around me, both in the outside world and also amongst my friends. I had a great photography teacher in high school and it seemed like a great fit for me. It was only when I was in third year university and found myself constantly cutting up and painting and drawing on my photos, that I realized that drawing was in my blood, and I have to stay true to that.
Tell us about the people in your life that helped you in your journey as a writer/illustrator.
First and foremost, my parents. Not only did my Dad (Happy Father's Day, by the way) keep me employed during the slow climb towards illustrating full time, but my parents also had such confidence in me that I never really thought about my career choice as a real risk. It was only after I had found some success that I realized that freelance illustrator may not be the most reliable vocation! The other person who has completely shaped my career is my beloved editor, Tara Walker. She was the first person to see me as a writer. To have someone with whom to create stories who is so totally on the same wavelength is heaven.
Where do your ideas come from? Are your characters based on imagination or real people, maybe pets (Gordon)?
My ideas come from all over the place. From my sketchbook, to my life events, from crafty hobbies, to my love of clothes; everything influences me. Most of my characters are from my imagination, but Gracie and Gordon from the Binky books are my actual pets and Binky is my sister's cat. Though none of them have managed to build a rocket ship or a robot. YET.
Do you remember the first thing you ever sketched/wrote? (Do you have a sample you can share with us?)
I should probably ask my Mom! My guess is that my first drawing was of a cat, since I grew up with eight of them and I'm still a crazy cat lady.
I was a major Fimo junkie as a child as well, some of which I am attaching a picture of so you can see that I apparently created Binky (upper left hand corner) when I was in grade four!
Tell us about your writing journey – going from 'thought' to 'finished product'. What is it like?
Slow, then hectic, then slow, then sleepless and hectic. Coming up with the right idea is often the hardest part. Once I've written it (and drawn a character sketch- I always start with a drawing) then I wait to hear back from my editor (that's the slow part.) Next comes the drawing of the roughs, which is always hectic because it seems like NONE of my projects are ever going according to the schedule (hectic.) Then I wait to hear back on that (slow as well) until I finally get the go ahead for the final illustrations and I race in a mad panic to finish the book on time. That part is always rife with sleepless nights and chocolate binging.
Do you have a special time/place to write and illustrate?
I like to write in the morning and draw in the evening (and into the wee hours.) My happy place is my studio upstairs where I always have a healthy stock of sweets and a cat or two to keep me company.
Do you have a favourite author/illustrator? What sets him/her apart from others?
I have a slew of authors and illustrators that I admire. It seems that the ones that inspire me the most are British. Roald Dahl and Quentin Blake will always be the dynamic duo in my head and the reason I got into this line of work. Nowadays, Oliver Jeffers is about the best there is out there. His whimsical voice and illustration hit the perfect note. My favourite illustrator is David Roberts. He is what I hope my work can become someday.
Tell us something about yourself that might surprise most people.
I only took one creative writing class in my 6 years of university. I studied like mad to be an illustrator, but the writing thing I just fell into. But, SHHHH, don't tell anyone.
When you are not writing and illustrating what do you like to do to relax? Maybe hacking books?
The hacking of the book was all ne
w to me! Normally in my spare time I am outside jogging, bike riding or walking with my dog. Also I'm a big fan of felting. I have to keep that hobby in check though, I can lose hours making little felted critters.
If you were stranded on an island, what five things would you want to have with you? A box of seeds, (so I can eat) a stack of sketchbooks, a (never-ending) pencil, a (limitless) pen and a paintbrush.
What advice would you have for a younger Ashley?
Put yourself out there and value your work. I was so struck with fear and insecurity about my work as compared to others that I admire, that I held myself back for a long time. I still have those insecurities but I'm working through it with each new project I take on.
Would you have that same advice for aspiring illustrators and authors? Absolutely. The world is made up of all different artistic styles, none of which are "better" than another. Diversity is what makes art art. I would encourage all aspiring artists (visual or otherwise) to cultivate their own style and stay true to it. That authenticity is what viewers and readers will respond to.
I understand you do school visits. Where would educators and fans be able to reach you?
My website ashleyspires.com has some information about my presentations and it has my email to contact me directly with any questions they may have.
---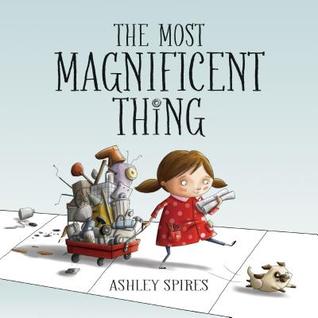 The Most Magnificent Thing
By Ashley Spires
Kids Can Press
Amazon | Chapters | Barnes & Nobel
Award-winning author and illustrator Ashley Spires has created a charming picture book about an unnamed girl and her very best friend, who happens to be a dog. The girl has a wonderful idea. "She is going to make the most MAGNIFICENT thing! She knows just how it will look. She knows just how it will work. All she has to do is make it, and she makes things all the time. Easy-peasy!" But making her magnificent thing is anything but easy, and the girl tries and fails, repeatedly. Eventually, the girl gets really, really mad. She is so mad, in fact, that she quits. But after her dog convinces her to take a walk, she comes back to her project with renewed enthusiasm and manages to get it just right. For the early grades' exploration of character education, this funny book offers a perfect example of the rewards of perseverance and creativity. The girl's frustration and anger are vividly depicted in the detailed art, and the story offers good options for dealing honestly with these feelings, while at the same time reassuring children that it's okay to make mistakes. The clever use of verbs in groups of threes is both fun and functional, offering opportunities for wonderful vocabulary enrichment. The girl doesn't just "make" her magnificent thing — she "tinkers and hammers and measures," she "smoothes and wrenches and fiddles," she "twists and tweaks and fastens." These precise action words are likely to fire up the imaginations of youngsters eager to create their own inventions and is a great tie-in to learning about Science, Technology, Engineering and Math.
---
Fashion Article: What I Wear | Check out her Drawn Out Wardrobe!
Great info: #makesomething | Ashley's Awards | Interactive Presentations
Ashley News:
---
Ashley's Library Visit:
---
Enjoy other books by Ashley Spires:
---
Ashely in moving pictures:
---
As you can tell, she is busy, busy, busy taking over the world. So we want to thank you, Ashley, for taking some time to share with our fans – writers, illustrators, parents, teachers and enthusiasts of the creative arts. We look forward to your next creation; in fact, we bet it's presently taking form on your sketch pad. Much success in all your many endeavours!
If you have any questions or thoughts for Ashley, please feel welcome to add your comment below.
---