My recent visits to the library and bookstores have revealed a bountiful selection of rich children's literature. I put together a list of some of my favourites. I hope you enjoy them as much as I have. Please feel free to comment below each title and share your thoughts and opinions. Have a great weekend everyone.

---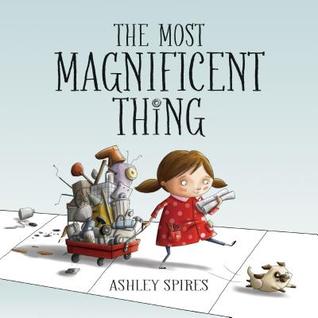 The Most Magnificent Thing

by Ashley Spires
Kids Can Press
Award-winning author and illustrator Ashley Spires has created a charming picture book about an unnamed girl and her very best friend, who happens to be a dog. The girl has a wonderful idea. "She is going to make the most MAGNIFICENT thing! She knows just how it will look. She knows just how it will work. All she has to do is make it, and she makes things all the time. Easy-peasy!" But making her magnificent thing is anything but easy, and the girl tries and fails, repeatedly. Eventually, the girl gets really, really mad. She is so mad, in fact, that she quits. But after her dog convinces her to take a walk, she comes back to her project with renewed enthusiasm and manages to get it just right. For the early grades' exploration of character education, this funny book offers a perfect example of the rewards of perseverance and creativity. The girl's frustration and anger are vividly depicted in the detailed art, and the story offers good options for dealing honestly with these feelings, while at the same time reassuring children that it's okay to make mistakes. The clever use of verbs in groups of threes is both fun and functional, offering opportunities for wonderful vocabulary enrichment. The girl doesn't just "make" her magnificent thing — she "tinkers and hammers and measures," she "smoothes and wrenches and fiddles," she "twists and tweaks and fastens." These precise action words are likely to fire up the imaginations of youngsters eager to create their own inventions and is a great tie-in to learning about Science, Technology, Engineering and Math.

---
Whimsy's Heavy Things


by Julie Kraulis
Tundra Books
Whimsy's heavy things are weighing her down. She tries to sweep them under the rug, but she trips over them. She tries to put them in a tree, but they fall on her. She even tries to sail them out to sea, but they always come back. Eventually Whimsy decides to deal with the heavy things one at a time… and a surprising thing happens. With exquisite illustrations and delightfully simple text, Whimsy's Heavy Things is a sweet story about changing the things that weigh us down into the things that lift us up.
---
Big Bear Hug
by Nicholas Oldland
Kids Can Press

A huge bear is wandering through the forest – but wait a minute! Who's that he's hugging? A beaver? And a moose? And a bird? And a tree? Welcome to the world of Big Bear Hug, a contemporary fable about a bear who has an appetite for hugging everything in sight – even creatures that bears have been known to eat. One day, the benevolent bear meets up with a human. This human proceeds to do something the bear cannot understand: he raises his axe and begins to cut down a tree. Suddenly the bear doesn't feel like hugging anymore and must make a difficult decision on how to stop this destruction in his forest. The environmental message of Big Bear Hug is both funny and powerful, while simple enough to engage very young children and show them the awesome power of a hug.
---
Ella May and the Wishing Stone
by Cary Fagan, Genevieve Cote (Illustrator)
Tundra Books
One day, Ella May finds a stone that has a line going all-all-all the way around it. Surely a stone this special must grant wishes, she decides. Soon she is busy making wishes and bragging about them. When her friends want to share the fun, Ella May objects. But she soon learns that keeping the stone for herself is a sure way to lose friends. By using her imagination – much more powerful than any stone – she is able to grant everybody's wishes, including her own.
Cary Fagan's witty and sharply observed story will delight young readers who are beginning to explore the pleasures and challenges of sharing and friendship.
---
The Flea
by Laurie Cohen, Marjorie Beal (Illustrations)
Owlkids Books
"Once there was a little flea who thought that he was too little . . ." And so begins an innocent quest. The flea wants to be bigger. He scales a pea. Then scales an apple. He climbs atop a flower, a plant, a tree, a home . . . a telephone wire, a skyscraper . . . finally, the flea finds himself on a cloud! Down below, a bear notices him. So, is the flea now big? Or just high up? The Flea uses appealingly stylized art, simple text, humorous twists, and one very determined flea to give young readers a light lesson on the importance of perspective and the malleable meaning of words. Quick paced, silly, and loaded with a funny twist ending, The Flea is indeed bigger than its humble exterior belies.
---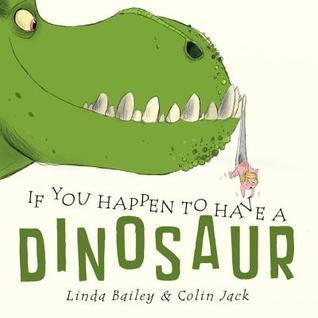 If You Happen to Have a Dinosaur
by Linda Bailey, Colin Jack (Illustrations)
Tundra Books

A tongue-in-cheek look at the practical uses of dinosaurs by a dynamic author/illustrator team.
If you happen to have a dinosaur, lying around your living room, and you don't know what to do with it … why don't you use it as a can opener? It will make a terrific nutcracker too! There are oodles of uses for a dinosaur — from a fine umbrella to an excellent kite and a dandy pillow, not to mention a reliable burglar alarm and the perfect excuse to forget your homework. This delightfully absurd exploration of the domestic uses of dinosaurs — and the things dinos just aren't good for at all — is guaranteed to tickle funny bones and spark imaginations. If you read carefully, you'll learn how to make your dinosaur last a very long time.
---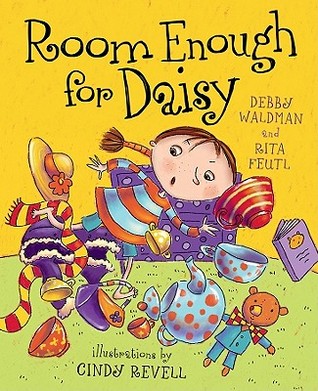 Room Enough for Daisy
by Debby Waldman, Rita Feutl, Cindy Revell (Illustrator)
Orca Book Publishers

Daisy has more toys than she knows what to do with. In this story, inspired by an Eastern European folktale about a house that's too small, Daisy thinks she needs a bigger bedroom for all the gifts on her birthday list. Her clever mom helps her realize less is more, and Daisy decides to donate many of her things to a Mitzvah Day rummage sale. In the process, Daisy learns about sharing and the satisfaction that comes from choosing what's important.
---
Too Much Glue
by Jason Lefebvre, Zac Retz (Illustrations)
Flashlight Press

Although Matty's art teacher has warned him that too much glue never dries, Matty loves glue. After all, he and his dad make oodles of glue projects at home. One day during art class, Matty finds the fullest bottles of glue, and the fun begins. With a squeeze and a plop, Matty pours a lake of glue before belly-flopping right in the middle and finds himself stuck to the desk. When Matty's dad arrives at the school, instead of being mad, he celebrates his son's creativity and calls him a work of art. With vibrant language and artwork and a wild, silly plot, Too Much Glue is sure to appeal to all children who love to get messy.
---
A Mountain of Friends
by Kerstin Schoene
Fitzhenry & Whiteside

There once was a sad little penguin.
The other animals were worried about him.
"What's wrong?" they asked.
"I'm a bird but I can't fly!
No matter how hard I try, I can't get off the ground.
Just once I want to soar above the clouds…"
Heartwarming and beautifully illustrated, Kirsten Schoene's North American debut picture book shows how working together can accomplish seemingly impossible goals. Young readers will enjoy helping penguin achieve his dream by reorienting the book and building a 'mountain of friends' to support him.
---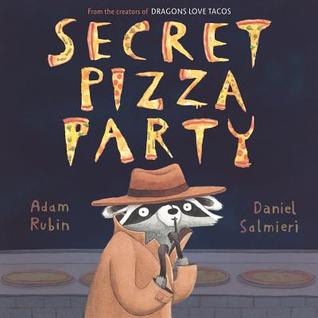 Secret Pizza Party
by Adam Rubin, Daniel Salmieri (Illustrator)
Dial Books for Young Readers
Shhhh! Don't tell anyone about this mouth-watering book from the New York Times bestselling creators of Dragons Love Tacos!
How does Racoon love pizza? Oh, let him count the ways. He loves the gooey cheesy-ness, salty pepperoni-ness, sweet sweet tomato-ness, and of course the crispity crunchity crust. But someone is always chasing poor Raccoon away from his favorite food with a broom! What's a hungry raccoon to do? Plan an elaborate secret pizza party, of course!
But shhh! It's a secret! In fact, you should probably just forget I told you. Nope, no secret pizza party happening here.You didn't already tell all your friends, did you? Uh oh . . .
Fans of Jon Klassen and Mo Willems's humor will gobble up this quirky ode to the lengths we will go to for our heart's desire.
---
Being Frank
by Donna Earnhardt, Andrea Castellani (Illustrations)
Flashlight Press

Frank follows the motto, "Honesty is the best policy." He tells the truth, the whole truth, and nothing but the truth. Frank never lies to his schoolmates, he always tells the truth to adults, and he's always honest with police officers. The balancing act of finding tact, that fine line between telling the truth and telling too much truth, is the main theme of this story, and it's very funny—although not necessarily to his friend Dotti whose freckles remind Frank of the Big Dipper, or to the teacher who hears that her breath smells like onions, or to the principal who is told that his toupee looks like a weasel. No one is quite as impressed with Frank's honesty as he thinks they should be. He is sweet and straightforward, and, well, very frank, but with everyone annoyed at him, Frank is now honestly unhappy. He decides to visit his confidante and pal, Grandpa Ernest, who has a history of frankness himself. With a few lessons from Grandpa, Frank begins to understand that the truth is important, but so is not being hurtful. With amusing characters and expressive artwork, this story tells the powerful message of finding the good in everything—a lesson that sends compassion and understanding to take the place of rudeness in the complex concept of truth.
---
The Looking Book
by Mary Ann Hoberman, Laura Huliska-Beith (Illustrator)
Little, Brown Books for Young Readers

A mystery unfolds as a little boy, Ned, loses his cat, Pistacchio, on page one of this book. Readers can fred Pistacchio cleverly hidden on each lively and colorful page. However, Ned cannot fred him until the end of the book. A counting element has also been added: each page number is boldly displayed in the comer, and that number can be found in many different ways upon the page. Fun, rhyming text by award-winning author Mary Ann Hoberman is accompanied by hip, bright illustrations by exciting newcomer Laura Huliska-Beith.
---
What Do You Do with an Idea?
by Kobi Yamada
Compendium Inc

This is the story of one brilliant idea and the child who helps to bring it into the world. As the child's confidence grows, so does the idea itself. And then, one day, something amazing happens. This is a story for anyone, at any age, who's ever had an idea that seemed a little too big, too odd, too difficult. It's a story to inspire you to welcome that idea, to give it some space to grow, and to see what happens next. Because your idea isn't going anywhere. In fact, it's just getting started.
---