Here it is – a collection of my favourite Back-to-School literature. Some are new, others are older classics. Please feel free to share your discovered gems in the Reply box below. I will continue to update this list, so please come back and check again (because we can never have too many).
---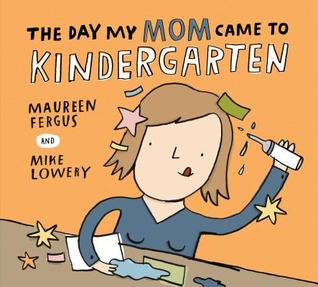 The Day My Mom Came to Kindergarten
Maureen Fergus
Kids Can Press
A kindergartener invites her mom to class and discovers there are some things kids are better at than parents. This book makes a perfect gift for readers who are about to start or have recently started school.
---
Llama Llama Misses Mama (Llama Llama)
Anna Dewdney
Viking Juvenile

Strange new teacher.
Strange new toys.
Lots of kids and lots of noise!
What would Llama like to do?
Llama Llama feels so new . . .
It's Llama Llama's first day of preschool! And Llama Llama's mama makes sure he's ready. They meet the teachers. See the other children. Look at all the books and games. But then it's time for Mama to leave. And suddenly Llama Llama isn't so excited anymore. Will Mama Llama come back?
Of course she will. But before she does, the other children show Llama Llama how much fun school can be!
---
Pete the Cat: Rocking in My School Shoes
Eric Litwin, James Dean (Illustrator)
HarperCollins
Pete the Cat is back—and this time he's rocking in his school shoes. Pete discovers the library, the lunchroom, the playground, and lots of other cool places at school. And no matter where he goes, Pete never stops moving and grooving and singing his song . . . because it's all good.
---
David Goes To School
David Shannon
Blue Sky Press

This light-hearted companion to the Caldecott Honor Book "No, David!" is an entertaining, laugh-out-loud romp from the beginning of class to the end of the day.
David's activities in school include chewing gum, talking out of turn, and engaging in a food fight, causing his teacher to say over and over, "No, David!"
---
The Night Before Kindergarten
Natasha Wing, Julie Durrell (Illustrator)
Grosset & Dunlap
It's the first day of school! Join the kids as they prepare for kindergarten, packing school supplies, posing for pictures, and the hardest part of all—saying goodbye to Mom and Dad. But maybe it won't be so hard once they discover just how much fun kindergarten really is! Colorful illustrations illuminate this uplifting takeoff on the classic Clement C. Moore Christmas poem.
---
Tom Goes to Kindergarten
Margaret Wild & David Legge
Albert Whitman & Company

Tom can't wait to start kindergarten — the kids there seem to have such a great time playing together.But suddenly it's his first day, and Tom doesn't want his mom and dad to leave. So Daddy, Mommy and Baby stay and join in the fun.
They have such a good time that on the second day of kindergarten, they want to stay again! But the teacher says they can't; kindergarten is only for children.
---
You Will Be My Friend!
Peter Brown
Little, Brown Books for Young Readers

Lucy wants to make a friend today!
But it's harder than it looks.
Will Lucy give up before she finds a friend?
Will YOU be Lucy's friend?
---
Chu's First Day of School
Neil Gaiman, Adam Rex (Illustrator)
HarperCollins

It is Chu's first day of school. Chu is nervous.
He hopes the other boys and girls will be nice. Will they like him?
What will happen at school today?
Will Chu do what Chu does best?
---
The Rat and the Tiger
Keiko Kasza
Puffin

Rat and Tiger are best friends. They have lots of fun playing together, even though when they play cowboys, Rat always has to be the bad guy. When they share a snack, Rat always gets the smaller piece. But one day, Tiger takes the bullying too far, and Rat decides that he's not going take it anymore. Rat stands up for himself and refuses to be Ttiger's friend until Tiger learns to play fair and square. With appealing illustrations and a simple text, Keiko Kasza delivers an important message about friendship in this heartwarming story.
---
Lost and Found
Oliver Jeffers
Philomel

What is a boy to do when a lost penguin shows up at his door? Find out where it comes from, of course, and return it. But the journey to the South Pole is long and difficult in the boy's rowboat. There are storms to brave and deep, dark nights.To pass the time, the boy tells the penguin stories. Finally, they arrive. Yet instead of being happy, both are sad. That's when the boy realizes: The penguin hadn't been lost, it had merely been lonely.
A poignant, funny, and child-friendly story about friendship lost . . . and then found again.
---
Countdown to Kindergarten
Alison McGhee, Harry Bliss (Illustrations)
HMH Books for Young Readers
It's just ten days before kindergarten, and this little girl has heard all there is to know–from a first grader–about what it's going to be like. You can't bring your cat, you can't bring a stuffed animal, and the number one rule? You can't ask anyone for help. Ever. So what do you do when your shoes come untied, if you're the only one in the class who doesn't know how to tie them up again?
Told with gentle humor by Alison McGhee and brought to exuberant life by New Yorker cartoonist Harry Bliss, this lighthearted take on pre-kindergarten anxiety will bring a smile to the face of every child–and parent–having first-day jitters.
---
The Kissing Hand
Audrey Penn, Ruth E. Harper & Nancy M. Leak (Illustrators)
Tanglewood Press

School is starting in the forest, but Chester Raccoon does not want to go. To help ease Chester's fears, Mrs. Raccoon shares a family secret called the Kissing Hand to give him the reassurance of her love any time his world feels a little scary. Since its first publication in 1993, this heartwarming book has become a children's classic that has touched the lives of millions of children and their parents, especially at times of separation, whether starting school, entering daycare, or going to camp. It is widely used by kindergarten teachers on the first day of school. Stickers at the back will help children and their parents keep their Kissing Hand alive.
---
Wemberly Worried
Kevin Henkes
Greenwillow Books

Wemberly worried about everything.
Big things.
Little things.
And things in between.
Then it was time for school to start.
And Wemberly worried even more. If you ever worry (or know someone who does), this is the book for you.
---
It's the most wonderful time of the year … enjoy these books!
Lora