A little while ago, I was pleased to connect with Stella when I was in contact with Scholastic Canada. She was very gracious and supportive to me as a burgeoning writer. Her insight and advice gave me great direction and confidence. 

Stella has been the Publishing Coordinator at Scholastic Canada for several years. During that time she has also successfully published three exceptional children's books. I caught up with her recently this fall, as she was launching her new title: There Was An Old Lady Who Swallowed A Puck.
Stella has a compelling career as a publisher and author, and I'm happy to share her story with you.
* For our teacher friends – do not miss the classroom resources available for download in the book review section below!
---
Where did you grow up? What were you like as a child? What part of those personality traits have stayed with you?
I was born in Nicosia, Cyprus and came to Canada very young. I grew up in Niagara Falls, Ontario. I was a shy kid and I'm still pretty shy. I've learned to work around it, though. I always loved reading and sharing stories.  I spent a lot of time at the public library and I always took part in the summer reading programs. I helped with the reading buddy program at my elementary school and later I tutored high school kids who needed help with English and Math. My parents would tell me stories of our village in Cyprus that I share with my own kids now.
What was your first piece of creative art that you remember (craft, book, painting) creating? Where is it now?
I always loved arts and crafts. As a kid I learned to crochet, knit, dance (ballet, jazz and Greek dancing), play the violin and piano. I even taught myself how to make pysanki (Ukrainian Easter eggs) and I'm not even Ukrainian. I decorated some eggs especially for my mom and she still displays them every Easter as part of the centrepiece.
In grade four I wrote a play called "Prince Pickleworth Stops Littering." I worked on it for weeks and when I showed it to my homeroom teacher, he was so impressed that he asked me to perform it for the class. So a bunch of my friends and I stayed in for recess over a couple of days and then put on a show. I kept worrying that the play was going to be a disaster but when it came time to perform for the class everyone did a great job. It turned out really well. I was so proud of them. The play is lost but the memory is always with me.
Tell us about your first "YES" in your career. Where were you? How did it feel?
The first "yes" in my writing career was the one I told myself.  It was a "yes" to doing what I love regardless of the outcome. I never thought I'd get published but there was no harm in sharing what I had written and seeing what happened.
My first published book started with a silly punchline that popped into my head as I was walking down the street: Sasquatchewan. I don't know where it came from
but once it was there I couldn't stop thinking about it. I knew I had to write a joke to match that punchline. I finally figured it out, "Where does Big Foot live?" Before I knew it I had written over 150 spooky jokes and some silly poems too. I sent them to an editor at Scholastic Canada. She liked them and the next thing I knew we were working to make it into an actual book. We left out the poems and pared the list of jokes down to 101 creepy Canadian jokes, which we published under the title, um, 101 Creepy Canadian Jokes.
Getting published was actually a big surprise. I didn't know if my jokes were any good (and, quite frankly, some are better than others).
Tell us about your writing process from idea to page. Do you envision your book completely or does it unfold for you as you write?
Most of the time I know how I want the story to start and I know how I want the story to end. I then figure out how to get from start to finish. Sometimes a story will start taking on a direction of its own and in those cases, I just let the story write itself without worrying too much about getting to the ending that I had in mind at the beginning. After I've worked out a first draft, I'll figure out how that story would fit into a 32-page picture book and revise it to fit.

What book is rattling in your head that you can't seem to get on paper?
I'm always writing down ideas. Sometimes the ideas turn into stories and sometimes they stall. I will revisit a stalled story every now and then to see if a fresh perspective might help me work out the challenges I stumbled over before.
I once had an idea for a middle-grade fiction story set in World War One. I read a lot of history books and had my story outline all set but when it came time to working out the actual story, I couldn't find the right voice for the characters. I still think about the protagonist every now and then. She was a very strong character and I'd like to one day share her story.
How do you usually choose your character's names? How important is choosing the right ones for you?
So far most of the characters in my books haven't been mentioned by name. The one exception is a hockey player named "McNevin" in Over at the Rink: A Hockey Counting Book. In that story McNevin pulls off an almost impossible play

when he drives a shot past all six players on the other team. I picked the name for a couple of reasons: it fit in with the rhyme scheme of the next stanza; but it also had a good family history. The McNevin family motto is "Where there is life there is hope." It seemed fitting that the player who ties up the score for the home team would be a hopeful character.
After the book was published I discovered that there was actually a player named Josh MacNevin who was drafted to the New Jersey Devils in 1996. But he isn't related to the McNevin in my book. The names of the other players in Over at the Rink are named after friends and family.
What do you consider to be your most significant accomplishment professionally? Personally?
My greatest accomplishment in my personal life is being the mother of two pretty great kids. I love that they are inquisitive and thoughtful. I admire them quite a bit and I still can't believe that I am lucky enough to be their mom.
My greatest accomplishment in my professional life is probably the internship program that I oversee for the publishing division at Scholastic Canada. When I was just starting out in publishing, I interned at the Canadian Children's Book Centre in Toronto and I have always been grateful to the Book Centre for the opportunity to gain practical skills and make those first contacts in the industry. I try to offer the same opportunity to new publishing students. I've kept in touch with quite a few of my former interns and I'm always happy to hear about how their careers are progressing.
---
---
What was your most significant failure? How did you manage, what did you learn?
Failing to get into teacher's college was probably the best worst thing that ever happened to me. I was devastated at the time. It was the first real failure I had ever experienced and I felt a little scared because I didn't quite know what I was going to do after university. I was just finishing up my studies when one of my professors suggested I look into book publishing. I applied to Centennial's Book and Magazine Publishing Program and got in.
That first failure taught me that life doesn't always go according to plan but that doesn't mean it's not on the right track.
Tell us about your partnership with Scholastic. How did you first connect? Any anecdotes from your career there? How do you see your future at Scholastic?
My first job in publishing was for an adult non-fiction publisher. I learned a lot from the very talented people I met through that first job but I knew that children's book publishing was where I belonged. When the position of publishing coordinator became available at Scholastic I knew I had to apply.
I didn't have a car at the time so I ended up taking a very expensive cab ride up to the head offices in Markham, Ontario and met with the director of publishing. We had a great interview and at the end of it I asked if there was a phone I could use to call a cab to take me back to the city. The director said she would drive me back herself if I waited for a bit while she wrapped things up. She drove me to the nearest subway station and we talked as if we were two friends heading into town. I knew right then that Scholastic was the place for me.
I've been the publishing coordinator for over 10 years now and the job has really grown around me. I love that even after 10 years there is still so much to learn. Book publishing is always changing. There are new technologies that can open doors to new kinds of storytelling. How kids read and what they're interested in reading is always changing. My job is to make sure the stories they want to read are there for them to discover.
Tell us about the significance of hockey in your life, we see that you have chosen it as a subject of two picture books.
I've never played hockey but I did love collecting hockey cards as a kid and every now and then my family would go to OHL games. I still remember how excited my dad would get with every goal the Niagara Falls Flyers scored. I can hear him cheering so loudly for our team. I can see the expressions of genuine anguish when the other team stole the puck and the relief when our goalie made a save. It's my time with him that I remember more than the actual games.
A couple of years ago I took my own kids to an OHL game. This time we were watching the Oshawa Generals play. Every time the puck smashed into the boards it made me flinch. What if one of the pucks went flying up into the crowd? What would happen if someone was cheering so loudly that she didn't duck out of the way? What if she swallowed the puck? And that's how I started writing There Was an Old Lady Who Swallowed a Puck.
Over at the Rink came about while I was spending a lot of time visiting someone at the hospital. It was a snowy February and I kept reciting "Over in the Meadow" to pass the time. The snow outside made me wonder what a wintry version would look like and suddenly "Over at the Rink" started to develop. We met a lot of helpful people at the hospital and were humbled by the unconditional support of family and friends. It was comforting to know that we could depend on other people when we needed them. I used the hockey game to illustrate how people can come together in the spirit of community to spend a beautiful winter day having fun. After all, no one can play a game of hockey alone. The outdoor rink was inspired by one of the community rinks in my town.
What authors have inspired you to write?
There are a lot of authors whom I admire. Ezra Jack Keats' The Snowy Day taught me to read. Robert Munsch's stories make me laugh. Phoebe Gilman's Something From Nothing is very touching. But the person who actually inspired me to write wasn't an author at all. He was my grade four teacher, Mr. Van Loon.
During parent-teacher interviews he told my parents to encourage me to write, to just give me a pencil and some paper and let me go nuts. And my parents followed his advice. They didn't tell me about this until many years later.
Mr. Van Loon was the first person to recognize how much I enjoyed writing. He recognized it much earlier than I did. I'd love to thank him personally for the role he played in my life.
If you did not become a writer or involved in the publishing world, where do you think you would be? What would you be doing?
Books are my first love. They have been my constant companions since childhood. But my second love is history. If I hadn't gone into publishing, I would have loved to have explored archaeology, particularly the Cypriot Bronze Age.
Archaeologists have to be experts in a lot of different fields. They have to understand history, but they also need to understand chemistry, botany, geology, anatomy and so many other disciplines. Every day would be a new adventure.
Do you have a secret talent?
I don't think I have a secret talent but I do have a secret kitchen dance that I do whenever I get really good news. It's better when done in a group but I can do my secret kitchen dance as a solo in a pinch.
Tell us the story of your hockey card collection.
The only time that my sister and I were allowed to go to the corner store for treats was when we were visiting our cousins. One time my cousin bought a pack of hockey cards. He opened the pack and gave me his doubles. I was hooked.
Every time we went to the store, I'd skip over the ice cream and sour keys and
go straight for the hockey cards. Pretty soon I had over 1,000 cards. I had them organized first by team: Whalers, Nordiques, Leafs, Bruins, Canadiens, and then by year. Every time I got new cards I'd rearrange the stack. It might not have looked organized but I knew where every one of my cards was. There was a time when I could have picked out any player from any year out of the pile in a second.
I loved the team cards with checklists. I'd tick off each player and ask the guys at school to trade me for the ones I was missing.
I don't know what happened to the cards. I stopped collecting them around 1986. I might have given them away to a younger cousin or we might have thrown them out when I got older. There are still a couple of cards kicking around in a drawer in my old bedroom to remind me how much fun I had with them.
Tell us about There Was an Old Lady Who Swallowed a Puck. What do you want kids to learn/take away from your latest picture book?
I had fun writing There Was an Old Lady Who Swallowed a Puck, Scot had fun illustrating it and I hope that by reading it kids get to share in some of that fun too. That's really my primary goal with the story. Sometimes reading is one of those things we do just for fun.
I've done a few author events in my community. Last Family Literacy Day I was telling Creepy Canadian Jokes to a group of kids. After the performance I hung out helping them with the crafts and games that the organizers had arranged.
One of the kids came up to me and had written a story based on one of the jokes I had told. That was probably the best thing that could have happened to me.
A couple of months after one of my library readings I was waiting for the train when a woman came up to me and asked if I was the author of Over at the Rink: A Hockey Counting Book. She said her son heard me telling the story and has been busy working away on a football adaptation.
This is what I want kids to take away from the books I write: that writing can be fun. They can write about what they love and create something to share with others.
What is next in your career?
My editor and I are working on a new picture book for Fall 2015 called Five Busy Beavers. I started writing the story after a beaver stick had washed up on the shores of our cottage. The bark was stripped off and we could see the bite marks in wood where the beaver had felled the branch. While I was doing research for Five Busy Beavers I learned that beavers are pretty remarkable creatures.

---
Visit with Stella Grasso:

---
There Was an Old Lady Who Swallowed a Puck
by Stella Partheniou Grasso, Scot Ritchie (Illustrator)
Scholastic
Amazon | Chapters
A quintessentially Canadian take on the old lady who swallows everything!
There was an old lady who swallowed a puck.
What rotten luck! She swallowed a puck.
And now it's stuck.
So down goes a goalie to save the puck, followed by a mask, two gloves, a stick, a net, the rink, some fans, the Cup, a ref, and some players. Soon, the old lady's belly is swaying and shaking with the hockey game she's just swallowed!
The rhyming text, over-the-top silliness, and hockey action will make this book a favourite to be read aloud again and again.
Download a wacky recipe HERE.
---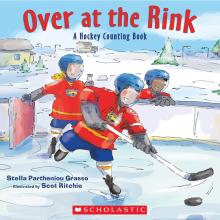 Over at the Rink: A Hockey Counting Book
by Stella Partheniou Grasso, Scot Ritchie (Illustrator)
Scholastic
Amazon | Chapters

Over at the rink
Where the anthem's sung,
The whole town gathered
For some hockey fun.
Who will you meet "Over at the Rink"?
Set to the catchy rhythm of the traditional counting song "Over in the Meadow", Over at the Rink describes a delightful jaunt to the local ice rink.
Scot Ritchie's expressive, humourous illustrations capture the excitement of the day, perfectly complementing the rhyming story. This is one title that will have young readers yelling, "Let's read it again!"
– Best Books for Kids and Teens, Canadian Children's Book Centre 2013, Commended
Download Over at the Rink Word Search HERE
Answer key HERE
---
101 Creepy Canadian Jokes
by Stella Partheniou Grasso
Scholastic
Amazon | Chapters
These 101 jokes are creepy, eh?
We Canadians are known for our humour — and here's a joke book to prove it!
What is the wimpiest landmark in Canada?
The CN Cower.
What's the scariest astronomical phenomenon?
The Northern Frights
How do ghosts tell the difference between a dime and a quarter?
One has the Boo-nose schooner, the other has a cariboo
Who's the king of the skeletons at Carnival?
Bonehomme
You'll laugh and you'll groan — but either way you will rejoice in these punch lines with a distinctly Canadian flavour!
Download Creepy Canadian Crossword Puzzle HERE
Answer key HERE
---
News from Stella:
Stella will be signing her new book
There Was an Old Lady Who Swallowed a Puck at the Ontario Library Association's Super Conference
Metro Toronto Convention Centre Thursday January 29th at 12:00pm. 
So if you would like to get your copy signed, she will be there at noon!
---
---
Stella was also here this past September:
---
Words on a Limb would like to thank Stella for her insight into the writing and publishing world. We are looking forward to the release of The Five Busy Beavers later this year.
To all our writer friends who are diligently working on getting that first "Yes", remember that life doesn't always go according to plan but that doesn't mean it's not on the right track.
In light of Stella's love of hockey, we would like to congratulate the Canadian Junior Hockey Team for winning the Gold Medal this week.
It must be a stellar time in the Partheniou Grasso household!
Lora