As we commemorate Remembrance Day and pay tribute to those who have fallen to give us the life we enjoy today, it is important to think about our role in maintaining that peace every day; whether it be on a global scale or in the minutia of our daily lives. As a teacher, this becomes a vital teaching opportunity to inject lessons about peace, love and acceptance through activities that foster friendship and respect.
What Is Peace? is a poem I wrote and plan to share with my students next week, as we begin our discussion around the topic of peace. To download a copy of the poem for your personal use in your classroom, click on the poppy image below.
---
       What Is Peace?
The gentle breeze that caresses me as I swing to and fro,
…..That is peace.
The handshake that follows a match despite victory or defeat,
…..That is peace.

The kind hand that reaches out for me when I stumble and fall,
…..That is peace.

The warm smile that greets me when I walk through the door,
…..That is peace.

The tender words that heal my wounded heart,
…..That is peace.

The love inside me that I share with others,
…..That is peace.

---
Click the poppy to download a copy of the poem.
 .
.
---
Let's get our students thinking – What is peace? How is peace manifested in our day to day interaction with others?  Click on the image below to download a copy of the various activities to use as follow-up with the lesson.
"Peace is quiet" (Braden, 5)

"Peace is in our actions" (Natalie, 10)
---
In the spirit of extending the feeling of peace at the classroom level all year round, I created friendly letter-writing templates for students to use in the writing centre (I call them Smile-o-Gram in my classroom). You might want to laminate the Smile-o-Gram cards and have older students copy the messages on the blank templates (or alternatively, write their own message), or else photocopy the templates with the messages directly on them (it is helpful to have a list of student names nearby for the greeting).
Click on the poppy to download the Smile-O-Gram templates and cue cards below. it will take a moment to load.

Ready-made messages
                        
Blank Template                                       Smile-o-Gram Cue Cards
Please let us know if you enjoy the free teacher content by clicking 
or visiting us on our Facebook Page.
---

What is Peace? by Lora Rozler is licensed under a Creative Commons Attribution-NonCommercial-NoDerivatives 4.0 International License.
Finally, here are some wonderful classroom resources to complement the discussion on friendship, acceptance and peace. Please feel free to suggest other great resources and ideas by writing in the comment box below.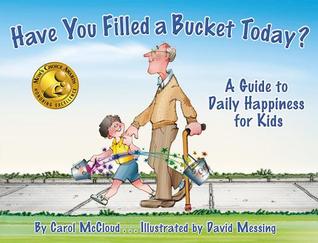 Have You Filled A Bucket Today?: A Guide to Daily Happiness for Kids
by Carol McCloud
Nelson Publishing
Through simple prose and vivid illustrations, this heartwarming book encourages positive behavior as children see how rewarding it is to express daily kindness, appreciation, and love. Bucket filling and dipping are effective metaphors for understanding the effects of our actions and words on the well being of others and ourselves.
---
Fill a Bucket: A Guide to Daily Happiness for Young Children
by Carol McCloud
Ferne Press
This is a version of Have You Filled a Bucket Today? for younger children. The concept of bucket filling is an effective metaphor for encouraging kind and considerate behavior as well as teaching the benefits of positive relationships to children.
---
A Little Peace
by Barbara Kerley
National Geographic Children's Books

The latest National Geographic Children's Books title by Barbara Kerley, A Little Peace, gives a richly evocative and thought-provoking view of the world our children will inherit. Wise words and moving images offer a unique and enriching experience for every young reader. According to author Barbara Kerley, "I believe that peace doesn't just rest in the hands of politicians and world leaders. We all have the power to make the world more peaceful."
The book juxtaposes photographs from around the world with a simple, reflective message about our responsibilities for finding and keeping peace on the planet. Like the highly acclaimed titles A Cool Drink of Water and You and Me Together, this beautiful children's picture book features superb National Geographic images accompanied by a brief, poetic text on a subject of global importance. All the photography is reproduced in miniature at the back of the book with geographic, historic, and cultural context and details explained. A world map leads readers to the location of each image. A Little Peace offers a vital lesson for children everywhere.
---
Feathers and Fools
by Mem Fox, Nicholas Wilton (Illustrator)
HMH Books for Young Readers
Long ago and far away, in a rambling garden beside a clear blue lake, two flocks of birds began to fear each other because of their differences. The fear grew, and soon the birds became enemies, hoarding great quantities of weapons to protect themselves–until panic struck and the chance for peace seemed lost forever.
---
The Peace Book
by Todd Parr
Little, Brown Books for Young Readers
Like Parr's bestseller "It's Okay to Be Different," this primer about peace gives parents and teachers a valuable tool in talking about this challenging subject to younger children. Full color.
For children, the concept of peace can be a difficult one to understand, and Parr makes an admirable attempt to explain it. He relates the notion to making new friends, listening to different kinds of music, and helping your neighbor. Where he stretches it a bit is with sentiments such as, "Peace is wishing on a star " or "Watching it snow", even if the images are tranquil. Bright primary colors and bold black outlines define cartoon like characters (animal and human) with smiling features. A helpful and engaging book that's sure to spark discussion.
---
Peace Week in Miss Fox's Class
by Eileen Spinelli, Ane Kennedy (Illustrator)
Albert Whitman & Company
Miss Fox is tired of hearing her young students quarrel. So she announces Peace Week–no more squabbling for one whole week! The children chime in with their own rules: no fighting, don't say mean things, and help others. Throughout the week each of the little animals gets a chance to practice this new behavior. When Polecat teases Bunny for wearing a bright yellow sweater, instead of poking fun back at Polecat, Bunny admires his sweater. Soon, to their surprise, the animals are finding that it's easy to help others, take turns, and say nice things, even when someone is grumpy to them. Wouldn't it be nice, Squirrel says, if every week could be Peace Week?
---
What Does Peace Feel Like?
by Vladimir Radunsky
Atheneum Books for Young Readers
Peace. What does that word really mean? Ask children from around the world, and this is what they say.
Radunsky strings together descriptive similes and metaphors to describe the essence of the word "peace." "What does Peace smell like? Like a bouquet of flowers in a happy family's living room, like fresh and new furniture, like pizza with onions and sausage". To the side of each question, the author indicates the names of children from the Ambrit International School in Rome who contributed their sentiments to the text. Other spreads attempt to explain how peace looks, sounds, tastes, and feels. Colorful gouache illustrations, primitive in design, supplement the concept. The book also features an extensive list of words for peace in over 150 languages.
---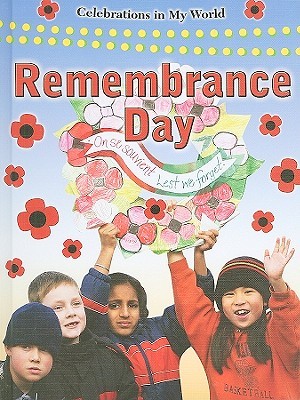 Remembrance Day
by Molly Aloian
Crabtree Publishing Company
Each year on November 11th, millions of people in Canada and other countries in the Commonwealth take time to remember the men and women who served their countries during times of war. This book describes how people around the world hold similar services featuring poppies, poems, and special prayers.
---
What Is Peace? (What Is?) (What Is?)
by Etan Boritzer
Veronica Lane Books
WHAT IS PEACE? for ages 5 to 11 is Etan Boritzer s eighth title in the best selling What is? series on character education and values. In this book Etan again tackles tough issues, this time taking on the themes of anger and conflict, non-violence and compromise, and how to develop an unselfish attitude towards others. Is being peaceful only a quiet thing? How can we be both peaceful and brave in standing up to bullies, or just in dealing with the chaotic world we live in? Etan Boritzer s best selling open questions approach allows deep discussion opportunities for both children and adults. Gently suggesting answers and peeling apart multiple layers of thought, WHAT IS PEACE? is a book you will be able to visit again and again with your child in helping to develop wholesome critical thinking on this most important and timely subject.
---
We Can Get Along: A Child's Book of Choices
by Lauren Murphy Payne, Claudia Rohling (Illustrations)
Free Spirit Publishing
Children need help learning how to get along with others at school, in the neighborhood, and on the playground. They need to know that they have the power to make good choices.
In simple, affirming words and exuberant full-color illustrations, We Can Get Along teaches essential conflict resolution and peacemaking skills—think before you speak or act, treat others the way you want to be treated—in a way that young children can understand.
---
Words on a Limb is proud to treat our fallen heroes with the utmost respect and gratitude. We encourage you to help further promote thoughts of appreciation, love, acceptance, harmony and nurturing peace.
Lora